Over the last two days 12 of New Zealand's top architecture graduates battled it out for the coveted NZIA Graphisoft Student Design Award.
As always the quality of the work was exceptional.
This years winner was Tom Dobinson from Victoria University with his project 'Wharf Dwellers – An Expose Of Lyttelton'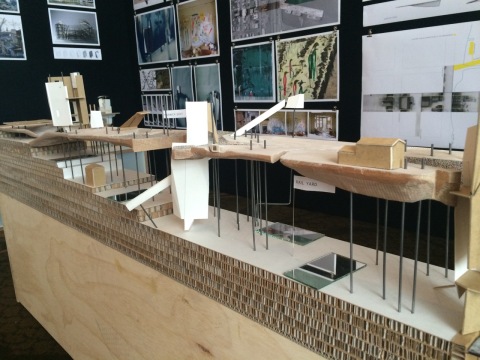 Highly commended were Ji Min An from Unitec with 'Korea Korea' and Norman Wei from Auckland University with 'SUPER-PACIFIC-CITY: The Saga Of Lomipeau'
You can read the Judges citations below the gallery.
Auckland University, School of Architecture and Planning
Raimana Jones
Architecture of Coexistence: Regenerating Royal Oak through Urban Acupuncture
Focusing on his own neighbourhood in Royal Oak, Raimana addresses an Auckland-wide issue: the domination of suburban communities and architecture by vehicle traffic. Light touch interventions reveal a respect for the existing building fabric and a sympathetic understanding of local social conditions.
Natalee Tan
Rotovegas: Playground of Flux
By marrying speed and play with urban infrastructure, Natalee has produced a hyperbolic, hyper-real version of Rotorua, New Zealand's tourist playground. The scheme – engagingly presented in sulpher-yellow renderings and with a rhyming couplet commentary – mandates drive-through fun for locals and visitors.
Zee Shake Lee
Moving Grounds: Irrupting Three Kings' Inverted Volcanoes
Zee Shake's polemical and provocative scheme is a dramatically unorthodox option for the development of one of Auckland's much-abused volcanic cones. The moody presentation of a series of propositions provides a strong indication of the form of the architectural response to a man-damaged landscape.
Norman Wei – Highly Commended
SUPER-PACIFIC-CITY: The Saga of Lomipeau
Drawing inspiration from the Tongan myth of sea-faring Lomipeau, Norman Wei has proposed a big-boat, hydraulically powered solution to the Pacific problem of impending inundation. The horizons of this inventive, exuberant and well-illustrated scheme stretch well beyond the Islands to the shores of Asia. It's an ingenious and very optimistic scenario.
UNITEC – Department of Architecture
Flora Kwan
Piranesi: [Th]reading the Repository
Flora's proposal explores the mysteries of Piranesian space, as illustrated in the Carceri series of drawings, and expresses a contemporary spatial approach that resonates with Piranesi's ideas. The scheme is a brave attempt to make design sense, through physical and digital models, of Piranesi's claustrophobic, labyrinthine vision.
Ji Min An – Highly Commended
Korea/Korea
Jo Min's entry is a well-judged means of using architecture to explore an intractable political problem. The proposal for a factory sited in the middle of the Korean DMZ in which workers from both North and South would produce Kimchi – the non-partisan national dish – is clearly presented, tightly edited and very focused. It also manages to be both realistic and optimistic in its appreciation of an issue architecture could only ever alleviate, not solve.
Mayank Thammalla
Swim Or Sink
Mayank's innovative and research-driven proposal responds to the situation of the Maldive Islands which, thanks to global warming, face a submarine future. Semi-submersible oil rigs are re-purposed as platforms for displaced communities; the scheme is logical, knowledgeable, and clearly explained and presented.
Shane Tregidga
The Steaks Are High
Shane foregrounds the issues attending modern bovine grazing in his proposal for a vertical urban tower for the production of beef. A cow 'cradle to grave' system – it could also work for goats and pigs, where culturally appropriate – confronts city dwellers with the realities of the provision of their meat. The scheme is supported by in-depth research and was rendered possible by an enterprising, problem-solving attitude.
VICTORIA – Department of Architecture – Faculty of Architecture and Design
Benjamin Allnatt
Plan B Hive: An Outpost In The Hinterland
After an earthquake in Wellington the Beehive's occupants are relocated to a groundscraper fortress in the Kapiti Coast foothills. Clever siting, a bold and singular formal treatment, and a strong polemic distinguish Benjamin's scheme. This is a real proposition, presented with wit and verve.
Hamish Beattie
Topology Of A Phantom City
This is a brilliantly illustrated presentation of an ambitious proposal to address the needs of inhabitants of slums or 'informal settlements'. Hamish's scheme envisages the combination of basic digital technology – the ubiquitous Minecraft game – with a sophisticated, vertically integrated system that recycles waste into energy and the construction materials needed to build sustainable communities.
Tom Dobinson – Winnder
Wharf Dwellers – An Expose of Lyttelton
Tom's proposal to open up public access to Lyttelton's privatized wharf, and at the same time explore the town's 'underbelly' and the persona of one of its distinguished inhabitants, the artist Bill Hammond, is inventive, curious and assured. The scheme is the very impressive product of a highly iterative process. Clearly and legibly presented, and well put together, it reveals its author's talent for analysis, skill in assembly, and deep interest in the social and architectural condition of his hometown.
Carinya Feaunati
E Toe Sasa'a le Fafao ; Return to Paradise
Carinya's scheme for the regeneration of a tsunami-damaged Samoan fishing village expresses her impressive immersion in the project and her commitment to mastering craft skills. Scientific data and fieldwork interviews have informed good architectural judgement, exhibited in the sensitive amalgam of traditional principles and construction methods and modern architecture.