It's been a busy year which is why posts have been few and far between. But as the year slips away we get to that time where I hit the road for the NZIA Graphisoft Student Design Awards. Two weeks ago I was in Wellington for the Victoria School of Architecture Awards and last night was Unitec's turn.
Wednesday night however was the major event where we celebrated the work of the top 12 fifth year students across the three schools of architecture. The quality of work on display continually improves and astounds all involved.
This year I had the great privilege of awarding the top prize to Arnika Blount from Unitec – the first time Unitec have picked up the top award during our five year involvement with these awards.
The jury citations for Arnika along with the two highly commended students are below the photos of Arnika's project.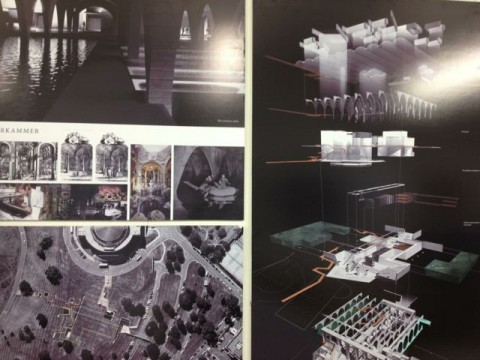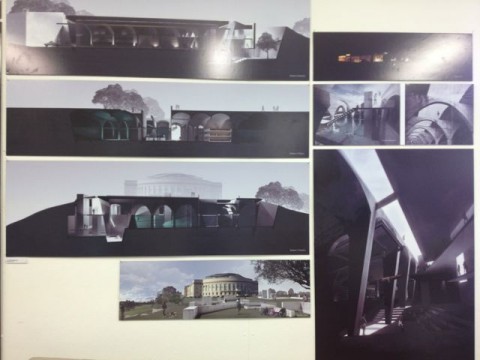 Winner
Arnika Blount
Unitec Department of Architecture
Project: Wunderkammer
Recognising that a chance discovery presented a wonderful opportunity, the entrant has produced a highly resolved scheme that draws on impressive research and expresses a strong vision. The imaginative, credible and compelling re-use of an underground reservoir buried alongside Auckland Museum as a contemporary cabinet of curiosities is an inspired and innovative premise. With its echoes of Sir John Soane's Museum and the cavernous realms of Piranesi's drawings, the sophisticated project is a celebration of structure; it posits an outcome that is both poetic and tantalizingly possible.
Highly Commended
Grace Mills
Victoria University of Wellington, Faculty of Architecture and Design
Project: A New Agora
In this timely, well-researched and cleverly conceived project, an existing site in coastal Sumner, and familiar recreational activities, are used as the basis for a new type of suburban settlement. A sports field and its attendant grandstands are turned into a model of more intensive and more interesting habitation. The 'new agora' incorporates dynamic and well-planned living and working spaces, and is a vehicle for gently moving reluctant suburbanites towards a more intensive built environment. It's a disarmingly casual and impressively creative solution.
Erica Austin, Jacky Lee, Praveen Karunasinghe, David Wong, Biran He, Alexander Haryowiseno
University of Auckland School of Architecture And Planning
Project: Future Christchurch
This is an exceptionally professional treatment of a challenging situation – the reconstruction of post-earthquake Christchurch – presented in an exemplary manner. Indeed, the presentation would be the envy of many professional bodies or agencies. The rigour of the research is evident, as is the concerted effort to make sense of the findings. The whole exercise demonstrates the virtue of collaboration; the project could not have been realized to this level if it had not been a collective effort. Therefore, besides being admirable in itself, it shows the way forward for the architectural profession by highlighting the skills architects bring to complex urban problems.