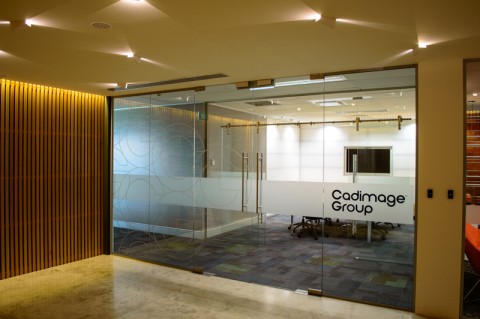 In October 1999, Cadimage Solutions moved from a home office to an actual office. This office was at 41 Taharoto Road, the place we've called home for 14 years.
When we first moved in the TelstraClear Building (now The Vodafone Building) was nearing completion, as the first building at Smales Farm.
A couple of years later the Tranz Rail Building was built (now the Air New Zealand Building.) Then came the Sovereign Building and Q4 – a retail and office complex.
Over the last 14 years it has been great to see Smales Farm develop and the place become a great office park with great facilities. When we first moved in to Taharoto Road it was the old Service Station pie that had to suffice for lunch, now at Smales Farm there are numerous eating options.
Fast forward to earlier this year and the ideal size office became available on Level 3 of the Air New Zealand Building and we decided it was time to upgrade and expand.
We engaged Peter Keys from Kay and Keys Architects to design the fit-out. Kay and Keys were one of the first companies I installed ArchiCAD in when I first started with Cadimage in 1996. Peter and Alastair were also the first people I trained in ArchiCAD.
Amongst other things the new office space gave us the opportunity to design a purpose made space for training  – up until now we had used a multi-purpose space.
A touch over 4 weeks ago after 5 months of design and fit-out we moved in. We are still putting on some finishing touches and we are still a couple of weeks away from having the whole team in the office at the same time but overall we couldn't be happier.