If you browsed through my photos from yesterday you may have seen an interesting 'lotus shaped' building.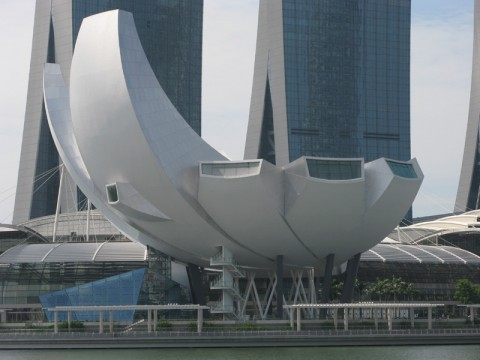 The ArtScience Museum building was designed by renowned architect Moshe Safdie and certainly has some interesting features, including:
The roof of ArtScience Museum allows rainwater to be harvested and channeled down a 35-meter water drop through the center of the structure to the reflecting pond at the lowest level of the building. Rainwater is recycled and redirected through the water feature to create a continuous cylindrical waterfall. The rainwater is also recycled for use in the museum's bathrooms as part of Singapore's Green Mark program.
Surrounded by a 40,000-square foot lily pond reflecting pool, ArtScience Museum floats over a dynamic new urban terrace with commanding views of Singapore and Marina Bay Sands.
A total of 10 "fingers" that make up the building form plus two bay windows with special views of Singapore and Marina Bay Sands. The tallest "finger" stands 60 meters above ground.
The interiors of the "fingers" are unique gallery spaces with natural lighting from the fingertips illuminating the sculptural interior wall forms.
While I didn't have time to venture inside below are a few more photos: