Which is why on Saturday we did the 5 man-relay not the Solo Ultra-Marathon of the Te Houtaewa Challenge 2009
At 8:30 Saturday morning Sally set off to run the first 3 km section of the 63km Relay down Northland's Ninety Mile Beach. For the next 4:47:19 we took our turn to run a 3km section and then drive down the beach slowly making our way from the bluff to Ahipara.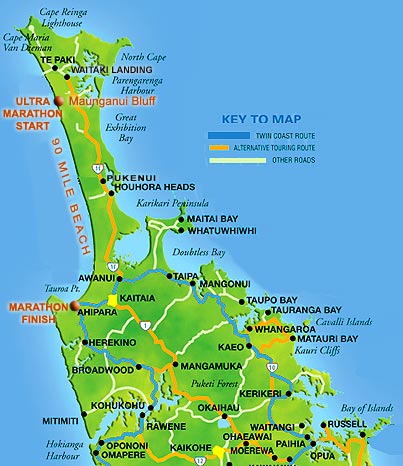 The team consisted of:
All of them seasoned pro's having run the event as many as 6 times before (it only started in 2003!) I was new to the relay but had run the extremely monotonous Half Marathon back in '99.
The guys were a little nervous at the start when they heard there were 5 other teams entered this year, however the nervousness was uncalled for as we ended up winning by over 45minutes.
Hats off must go to Tony Ahern though as he finished only 38 minutes after us having run the whole 63km himself!
Hats off also to the organisers – the event is very well run and has a fantastic Far North Community feel about it.